ROLE PLAY, NAUGTY GAMES...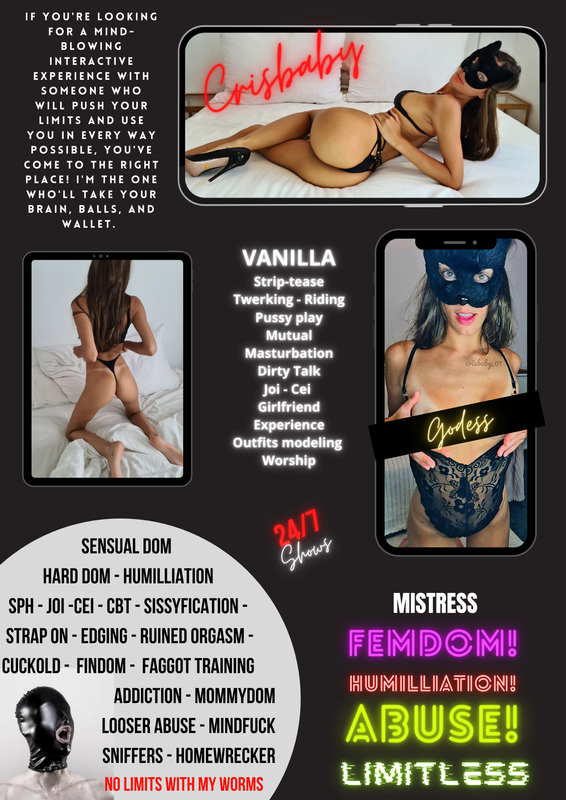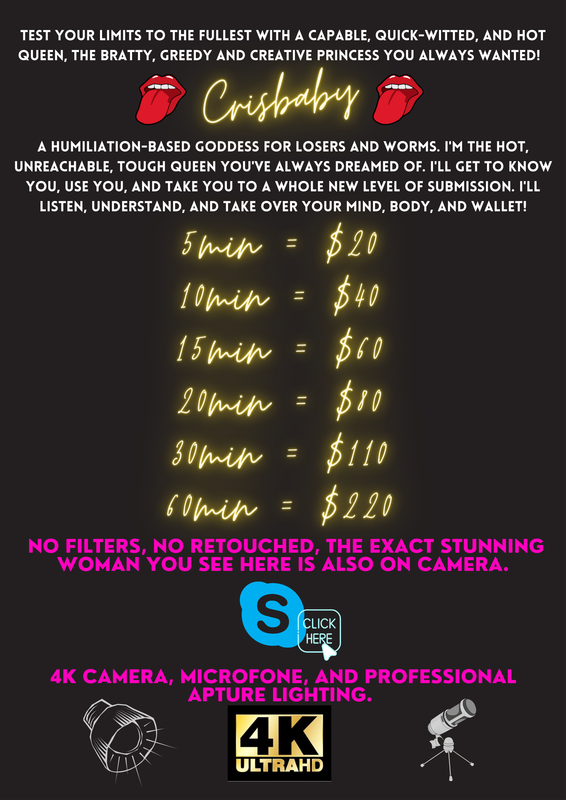 **❤️❤️❤️ Thanks for taking a look at my profile!❤️❤️❤️**

Lovely pink hard nipples, big ass, young and fit! Videocall with professional equipment.

⭐️⭐️⭐️⭐️⭐️ Check out my five star rating and reviews to se how do I perform, Ill make all your dreams come true⭐️⭐️⭐️⭐️
**Just love doing this! exploring sex! I'm open-minded to all types of sex, and my body has very few limits... I'm the hot, sweet and compliant girl you always dreamed of.
### **A princess with an alpha personality. If you are a pathetic worm, into humiliation, these are the shows that I own, I'll be happy and horny to dom, and abuse you. I'll get to know you, use you, and take you to a whole new level of submission. I'll listen, understand, and take over your mind, and body!**
### REGULAR SHOWS AVAILABLE AS WELL
### I am very creative and flexible about my shows just feel free to share your fantasies .****
****

❤️❤️❤️ Test your limits to the fullest with a capable, quick-witted, and hot Queen, the bratty, greedy and creative Mistress you always wanted!
A humiliation-based Goddess for losers and worms. I'm the hot, unreachable, tough, and polite queen you've always dreamed of. I'll get to know you, use you, and take you to a whole new level of submission. I'll listen, understand, and take over your mind, body, and wallet!
**❤️❤️❤️
⭐️"I will fulfill your desires and make you CRAZY"⭐️

**What we can do❓❓
✅ Role play
✅ Be watched
✅ C2C
✅ Use controllable toys such as Lush
✅ Sloppy blow job
✅ Cock rating
✅ Play with feet, suck thums…
✅ JOI Jerk off instructions
✅ CEI Cum eating Instruction
✅ SPH Small Penis humilliation
✅ ATM Ass to mouthRole play
✅ Play with my pussy
✅ Play with toys in my pussy or ass
✅ Blow job on the toys (also deep throat and sloppy)
✅ Cum swalowing, and plying in mouth, spitting cum and eating back.
✅ Cum swalowing, and plying in mouth, spitting cum and eating back.
✏️✏️ Double penetration
✅ Baby oil on my boobs or ass
✅ Spanking
✅ Girlfriend Experience
✅ Mutual masturbation and cum
✅ Dirty talk
✅ Striptease
✅ Twerking
☄️ Anal play
✅ Different lingeries, dresses, toys
✅ Cum Swalow and mouth playing (Under request)
**INTERACTIVE TOY**
❣️And I accept any special requests❣️

![](https://i.postimg.cc/Bv8VfK1m/9.png)